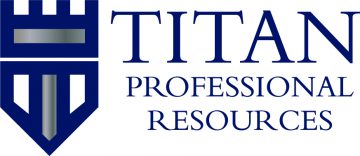 Titan Professional Resources
Payroll Supervisor Oklahoma City, OK
Titan Professional Resources is looking for a Payroll Supervisor to join an outstanding and well-known company here in the Oklahoma City Metro area! This position offers benefits such as 401k, medical, dental, and vision. If this is something that interests you, please apply with us today!  
Payroll Supervisor Duties and Responsibilities:
Supervise Payroll staff and fill in as needed and prepare work schedules to ensure appropriate coverage.
Resolving conflicts or complaints from customers and employees.
Maintain database of company-wide pay plans and guidelines by job type.
Facilitate weekly team meetings.
Create annual team objectives.
Escalate potential service issues to Manager.
Participates in interview process for new hires into Payroll roles.
Defines standards and reusable approaches within the payroll operational framework.
Train team members on new or enhanced operation procedures and policies.
Approve any manual off-cycle check payments.
Communicate actively with Accounting, HR, and Operations.
Oversee audit requests, tax reconciliation, year end and W-2 processes.
Ensure compliance with wage garnishment and child support regulations.
Maintain advanced knowledge of payroll and HRIS systems to optimize utilization.
Prepare monthly compensation reporting for the executive team including dealership and management reporting.
Payroll Supervisor Skills and Requirements:
Minimum of 5 years of payroll experience
Minimum of 5 years of fast paced customer experience
Experience with various payroll systems and implementation
Experience in a shared service environment and solid understanding of HR cycles
Technical writing experience in drafting legally compliant pay plans.
Knowledge of labor laws, rules & regulations
Ability to work with accounting to streamline payroll calculations and communication.
Excellent computer skills, competent in all Microsoft Office applications, with emphasis on Excel
Demonstrated coaching/mentoring skills and issue management problem solving skills.
Strong organization skills, attention to detail and follow through to resolve any outstanding issues.
Ability to adapt to changing environments.
Ability to analyze/interpret data and take appropriate action.