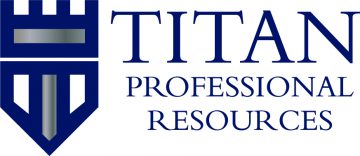 Titan Professional Resources
Recruiter Oklahoma City, OK
Titan Professional Resources is looking for a Recruiter to join a well-known company here in the OKC area! As the Recruiter you would also be a key point of support for the human resources department. If this is something that interests you, apply today!  
Recruiter Duties and Responsibilities:
Maintain applicant tracking system.
Attend job fairs.
Work with hiring managers to determine staffing needs.
Screen and interview applicants using interview guidelines.
Process and review employment applications to evaluate qualifications or eligibility of applicants.
Assist with training or conduct training for newly promoted managers.
Enter and make changes for new employees, rehires, and transfers in HRIS (UltiPro)
Assist with coordinating new hire employee orientation.
Ensure that human resource files and records are maintained.
Prepare job postings for hiring database as well as weekly internal job postings.
Provide administrative support to the Human Resource Department including, but not limited to, distributing mail, filing, faxing, and copying; sort and distribute paychecks.
Compile and input payroll information into HRIS
Enter changes to W-4 elections, direct deposits, address changes, etc.
Assist with employee benefits enrollment.
Recruiter Skills and Requirements:
Bachelor's degree preferred.
Heavy excel knowledge.
Experience in all areas of human resource duties.
Experience in interviewing required.
Must be able to become certified as a targeted selection interviewer.
Excellent communication skills both verbal and written.
Ability to handle confidential information.
Knowledge of employment, merchandise handling, and safety procedures.